Long lasting colognes for men
It is a sweet fragrance. This really smells like all typical sexy, clubbing, tonka bean fragrances. It definitely smells like Paco Rabanne One Million.
The performance of this is very good. It performs for ten hours. It gets you lots of compliments. But don't expect surprises in terms of, "Wow, I've never ever smelled something like this before in my life."
It projects like a beast. This is a beast fragrance. Very classy. Very sophisticated.
The first fresh fragrance in the list. Finally, a fragrance where the word intense actually means intense.
It's just like the ever-so-famous Hall of Fame Dolce Gabanna Light Blue, except it's a little bit saltier. You know that smell when you're on the pier or the beach, of the fresh ocean on a clear day — that's Dolce Gabanna Light Blue. This smells like Ibiza. I imagine that Tom Cruise wears it in the movie Cocktail. This smells like a cool, easygoing, casual guy with a Hawaiian shirt, just having good times on the beach.
This one lasts longer than the original. It is stronger, so you might not like it if you're not used to strong fragrances. It is perfect for spring, perfect for everyday wear, and it even works better in hot climates. It will get you compliments. It lasts six to eight hours. I highly recommend the Light Blue Eau Intense Pour Homme by Dolce Gabanna. Great one. Very potent for a fresh fragrance.
This is a masterpiece of fragrance creation. Acqua di Gio Profumo is an aromatic aquatic scent. It's the original Acqua di Gio DNA (the most selling men's fragrance on the planet) added with more masculine notes like incense and patchouli, which helps this fragrance's smell to last long in the club as well as in the winter and fall.
This is one of those cases where the new fragrance smells better than the original AdG. So if you've ever liked it, whether back in high school or a couple years ago, then you should probably run out and get this because it smells like the origina, only better. The patchouli and incense really give it a whole new life.
This is an extremely versatile fragrance. It's more than an evening fragrance and not just a formal fragrance.
It still performs. It may be a little too overpowering for some, but you can expect to get six to eight hours from this.
I love the smell, and I think you will, too; and the ladies definitely will. It gets many compliments. Just walk into a store, and somebody will tell you that you smell nice. It's definitely a crowd-pleaser.
I've just tested this a couple of days ago again, and it just won't leave your skin. It's unbelievable, and as you know, it's based on a fresh DNA. In the fragrance community, this one definitely has a love-hate reputation.
In general, the smell of this one is a bit of a citrusy, metallic, peppery-type smell. There's almost like a very cold, sophisticated type of feel you get from it. Not much warmth to it.
The bergamot is your top note. When I immediately spray this on, I get a citrusy pineapple-type smell. It's very citrusy in a pleasant way. That's probably the pineapple I'm detecting. Then, it dries down to the mid notes of the ambroxan. The smell or feeling I get from that is a very metallic synthetic cold feel, mid-note, and then the base - pepper note.
I generally can get anywhere between eight to twelve hours of good usage out of this one, so the longevity rating is very high.
Now when should you wear Dior Sauvage? Because of his versatility, I'm going to say you can wear it at work, the office, a date, anywhere. It's a very versatile set. I would say this is a good year-round scent. However, I prefer it more in the warmer months because it's such a cold scent. I think the warmth helps bring it out.
I'd recommend it to anyone: younger guy, older guy, middle-aged guy. This one works for just about anybody. It's that versatile.
This is the superstar, the best the long-lasting cologne for men currently on the market. Good job. Dior is a superstar company.
The nose behind this is Daniela Andrier, and it's classified as an aromatic, for-sure fragrance for men. The top notes we have are bergamot and pepper. The middle notes we have are cold lavender and metallic notes; base notes: patchouli and ambroxan.
I've really enjoyed this. It's a lovely fresh spicy fragrance. It's sweet, soapy, and powdery in a really good way. It's very pleasing to wear.
As it opens, there's a little hint of zestiness from the bergamot, but it's not really that prominent. And then on the dry down, we get the ambroxan and lavender are really coming through, and it creates this lovely sweet powdery scent.
This is really a versatile scent that works in every situation. You could wear this as a day scent; gym scent if you wear a scent for the gym; evening scent; formal scent. I think there are fragrances out there that would work better for formal occasions, such as date nights and special occasions.
And it could also be worn at any time of year. Really, it could be worn in the summer, autumn, winter...a very versatile scent.
The age range is, again, very versatile. Young men, middle-aged men, and older men could all wear this. It really would work across the whole age range.
The projection and longevity is not really that amazing, although it is acceptable.
The originality of this fragrance isn't much. There's a fragrance that came out two years before this one, and it smells almost identical to me. That fragrance is the very well-known Dior Sauvage.
Sauvage smells almost identical. This has slightly better projection and longevity. So it smells similar, but it lasts longer. And I would say it's stronger as well, and I think that's why you're getting a slightly better projection off of this. So there's similar notes in there, but I think, again, the overriding notes in Sauvage are the ambroxan and the lavender, which, again, creates this lovely sweet, slightly soapy, powdery note.
This thing is still alive. This takes the original Angel Men DNA, which is based on patchouli with the addition of some whiskey. Pretty nice ladies' reactions still for this one.
This is a great boozy fragrance. It mixes the fruit and whiskey incredibly well. This sweet boozy scent smells excellent, and the dry-down on this one is phenomenal. It's this creamy vanilla, and it's so smooth. It's very nice.
I do think this is an incredibly versatile fragrance. I think you can wear this for a lot of different occasions. As far as the seasons, you're gonna want to wear this one probably primarily in fall or winter.
I think this is a great fragrance, but you definitely need to keep in mind that it's very sweet and boozy. So if you don't like that in your fragrances, this one probably isn't for you, but otherwise, I definitely think you should check this one out.
This is a great whiskey-based fragrance. It's sweet, but it's not overbearing. It's incredibly smooth, especially in the dry-down. If you're looking for a sweet, boozy fragrance, then you definitely have to check this one out.
It's still a great fragrance, and it's in this list for a good reason, because it performs very nicely.
This is a nice clubbing scent. It has very nice pear and vanilla top notes, which make it very playful. It's also a sexy fragrance with very nice sweetness. It's your sweet bubblegum champion.
It also has a very nice compliment rate. Women have told me, "I hate to say it, but you smell so good." I was smelling "annoyingly good" in their words. Well, that's a nice feeling.
This one is the superstar when we talk about that sweet clubbing DNA. Currently, it's not the most brutal longest-lasting cologne. It lasts about six to eight hours, and the projection is pretty good, too.
Ladies love it.
This fragrance is classified as an oriental scent. The top note is mint. The mid-note is lavender, and then for the base we have tonka, coffee, cocoa vanilla patchouli, and licorice.
First off, there is this burst of alcohol. But it's very quickly changing into mint. That mint sticks around for maybe a minute, for you to become more fresh and sweet, kind of like vanilla. As that mint disappears, other spices come up to the surface, even though there are no spices listed in the note breakdown.
There's definitely spiciness to this fragrance. There are chocolate and caramel. Even though caramel is not listed, chocolate and caramel start to creep up. They're more in the background, but primarily there is this coffee background to this overall spicy tonka.
After four hours, coffee starts to take over that fragrance. It's been described to me as a sort of campfire fragrance. There's very much a woodsy overtone, like you can't specifically pin down a specific wood.
The projection of this fragrance is 8 to 10 hours. I do find that on clothes you can get a bit longer for longevity, maybe twelve hours.
The best time I think to wear this fragrance really is, I would say, the fall or the spring, when it's not too hot and not too cold. I find that you can wear this casually, and let's say in a more formal setting because it's not this sweet bomb of vanilla.
This one is currently the best coffee fragrance on the market. If you love coffee, then try this one.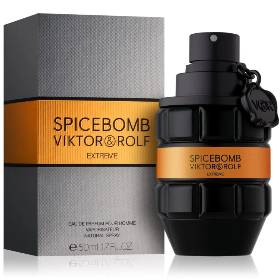 This, to me, personally, is one of the best fragrances ever created by Olivier Polge. This is a winter fragrance. Imagine the following situation, guys. You are with a girl in the Alps, and you are in a wooden house surrounded by a lot of snow. You've been out the whole day skiing or snowboarding. She's looking forward to the evening. You are looking forward to the evening. You know why you are here now, the next two or three hours what you're going to do there in front of the burning fireplace. You are wearing some cashmere pullover or sweatshirt, and she's coming to you. She smells this one. She will love this one. So this is absolutely the best situation I could imagine wearing Spicebomb Extreme.
Spicebomb Extreme is a very warm, ultimately inviting fragrance. This is not an attention-grabber like Versace Eros or even Jean Paul Gaultier Ultra Male or even Dior Sauvage. This is more like an inviting, relaxed, laid-back scent. This is not a shouter, although it does have pretty good performance.
I will never wear this in the summer. Never in the spring. There's just so much competition. We have so many great fragrances that you can wear instead of this one. It's only suitable for the wintertime. You could wear it to work; you could wear it on a date, most suitable for the Alps situation I told you about. Very nice fragrance for the wintertime.
I've got lots of compliments from girls. Very impressive. I even got compliments from guys in the gym. This could potentially join my top ten most complimented fragrances.
This is pretty nice in the performance category. You expect a lot from a sweet wintry fragrance, especially when you talk about tobacco and vanilla. You expect fifteen hours and longer. You won't get that with this one, but still, it's better than most fragrances out there.
There are not many fragrances that smell like this. Of course, we have a couple of tobacco/vanilla fragrances, and a lot of fragrances are kind of circling around this. This fragrance is something created completely new by Olivier Polge.
Great winter fragrance. Sexy, gorgeous, strong fragrance. You get great ladies' reactions. But wear only in the wintertime, please.
This fragrance was released in June 2017. The top notes we have are cardamom, pink pepper, and violet leaf. In the mid we have sage, melon, and pineapple. And at the base we have vanilla, chestnut cedar, and amber wood.
Yes, this one's a sweet, very sweet club scent. It gets compliments and has great longevity, and it smells awesome. You can't argue with that.
You get some fruity notes in this, and you get some woods, and you get some vanilla. And vanilla is super sweet. Positive attention with this one. Nobody said it was too much, or it was too heavy, or anything like that. Guys, if you want to try a new sexy fragrance, try this.
The longevity is awesome on this one, probably lasted me a good eight hours.
I will say it's more like a date fragrance and evening fragrance. Probably too strong for the workplace, too strong for the day. I would say you can wear it in fall and winter or just pretty much any cool weather.
The original modern savage bad-boy coal fragrance. There are whiskey, tobacco, and oud. It smells masculine. It smells manly. It smells sexy. It smells seductive. It has modern savage written all over it. It's fantastic. It's one of the manliest fragrances on the planet.
Performance is estimated to be eight to ten hours.
I said its signature scent is worthy of the beach or the boardroom. You can wear it from spring to winter. All year long. I love it, especially when I'm dressed all in black.
You'll love it so much.
The blue superstar from Amouage. This is Interlude Man, the longest lasting fragrance. Very hardcore thick long-lasting fragrance notes in this fragrance right here. No fragrance lasts longer than Interlude Man. If you want to be serious in the niche world and if you want to be serious in the fragrance world, this is number one.
This is the strongest, most powerful fragrance in my life. It's unbelievable. The longevity on this on my skin is ridiculous. I think it didn't come off for about two days and was on my clothes for one week. I could still smell it a week after I sprayed it.
I remember when I sprayed it, I left my house to go in my car, and like 30 minutes later when I came back to my hallway, I still could smell it. So it's unbelievable.
When I spray it, I get these peppery accords. I get this strong oregano note, and it's very harsh and strong. This smells like a wood burning, or cigarettes, or something similar... or like you're burning.
I think you need a tremendous amount of confidence to wear this one. This is not for everybody. I'm not a huge fan of it at the moment, but I feel like maybe after a few more wears, I could be.
I see why people call this a blue beast because any fragrance near you or any fragrance that you put on, this would literally just destroy it and just take center stage. It's unbelievable.
If you're bold and have a lot of confidence, I feel like you should definitely try this out. You know to try this out regardless. Just because it doesn't work for me doesn't mean it won't work for you.